Jeep Wrangler JL 2018+ and JT Gladiator 2020+ blackout for all models EXCEPT Rubicon or any variations with raised none flat hood. The decal is available with or without the bumper cutouts.  Because of the aseembly process of the hood, there is slight variation in the placement of the hood bumps on the JL and JT Jeeps.  This small variation could potentially affect the placement of the bumper cutouts. In order to avoid this we offer the option to purchase this without the cutouts and simply removing the bumpers prior to installing the decal which will yield a much more custom and cleaner look.  Instructions are available with details descriptions and pictures of how to remove and reinstall the bumpers.
This decal not only looks great but is also functional by cutting down on hood glare.
Our hood decals are cut on  HIGH QUALITY AUTOMOTIVE GRADE VINYL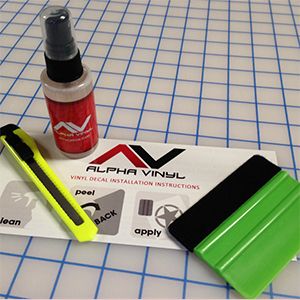 COMES WITH EVERYTHING YOU NEED INSIDE!  Every hood decal comes with a free application kit ($13.95 value!) that includes 3.5oz Action Tac Application Spray, Plastic felt lined Squeegee, and a Utility Knife making installation abreeze.
These blackout hood decals can be easily installed by individuals with little to no experience. Our kit includes full step by step directions with videos.
https://www.alphavinyl.com/installation
DOWNLOAD THE PDF VERSION HERE:
https://www.alphavinyl.com/blackout.pdf
Included application spray allows you to move the decal around on the hood for perfect placement, felt lined squeegee ensures you won't damage the decal during the installation.
INSTALLS IN UNDER 10 MINUTES
CHECKOUT HOW FORGIVING OUR AUTOMOTIVE GRADE VINYL IS!

Jeep®, Wrangler, MOPAR® and the Jeep grill design are registered trademarks of Stellantis. ALPHA VINYL has no affiliation with Stellantis. Throughout this website and catalog the terms Jeep®, Wrangler & MOPAR® are used for identification purposes only.
AlphaVinyl is not in any way associated with Jeep or the Chrysler Corp.
Jeep, Wrangler, Cherokee and Grand Cherokee are copyrighted and trademarked to the Jeep/Chrysler Corporation