Want some special and one of a kind? Upload your custom image and select the model of your Vehicle and let us take care of the rest.
Your image will be vectorized and then placed manually in the center of a Hood Blackout, your image dimensions will be cut out at approximately 14-20″ in size depending on the model of the vehicle you selected.  Because we MANUALLY put these together in our graphic studio, you can rest assured your decal will come out looking aesthetically pleasing and totally awesome!
WE WILL NOT PRINT YOUR DECAL IF THERE IS A PROBLEM WITH THE IMAGE OR SOMETHING IS OFF. WE WILL CONTACT YOU IF THERE IS AN ISSUE!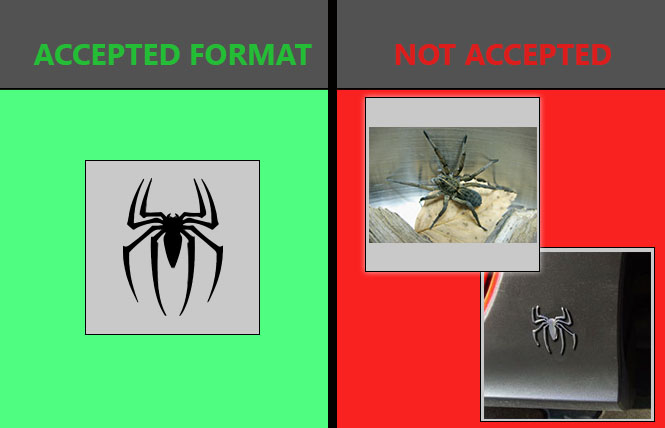 Please note the file you upload can't be a photo and it can't be an image of another decal that was taken from any angel as the dimensions will be distorted (even if you think its dead on, it will still be distorted).  The image you upload must have sharp edges, no shadows or gradients and must be a shape (colors are okay) this image will be cut into a hood blackout.
This decal not only looks great but is also functional by cutting down on hood glare.
Our decals are custom cut exactly for your application and we use AUTOMOTIVE GRADE AIR RELEASE VINYL FOR ALL of our blackouts.   Don't be misled by our competitors that use cheap vinyl that requires transfer tape over the entire decal in order to apply it.  Their vinyl is not designed to withstand the high temperature swings that hoods see on a day to day basis.
Our blackouts are cut on  HIGH QUALITY VINYL THAT DOES NOT REQUIRE TRANSFER TAPE allowing you to see EXACTLY where you are placing your decal so you get it right the first time, AIR RELEASE BACKING helps avoid air bubbles.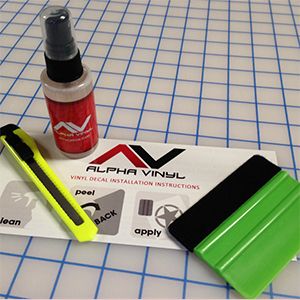 COMES WITH EVERYTHING YOU NEED INSIDE!  Every blackout comes with a free application kit ($13.95 value!) that includes 3.5oz Action Tac Application Spray, Plastic felt lined Squeegee, and a Utility Knife making installation abreeze.
These blackout hood decals can be easily installed by individuals with little to no experience. Our kit includes full step by step directions with videos.
https://www.alphavinyl.com/installation
DOWNLOAD THE PDF VERSION HERE:
https://www.alphavinyl.com/blackout.pdf
Included application spray allows you to move the decal around on the hood for perfect placement, felt lined squeegee ensures you won't damage the decal during the installation.
INSTALLS IN UNDER 10 MINUTES
CHECKOUT HOW FORGIVING OUR AUTOMOTIVE GRADE VINYL IS!

Please be sure to check out our web store for all kinds of custom off-road, rock crawler, 4×4 decals.
Jeep, Wrangler, Cherokee and Grand Cherokee are copyrighted and trademarked to the Jeep/Chrysler Corporation
AlphaVinyl is not in any way associated with Jeep or the Chrysler Corp.